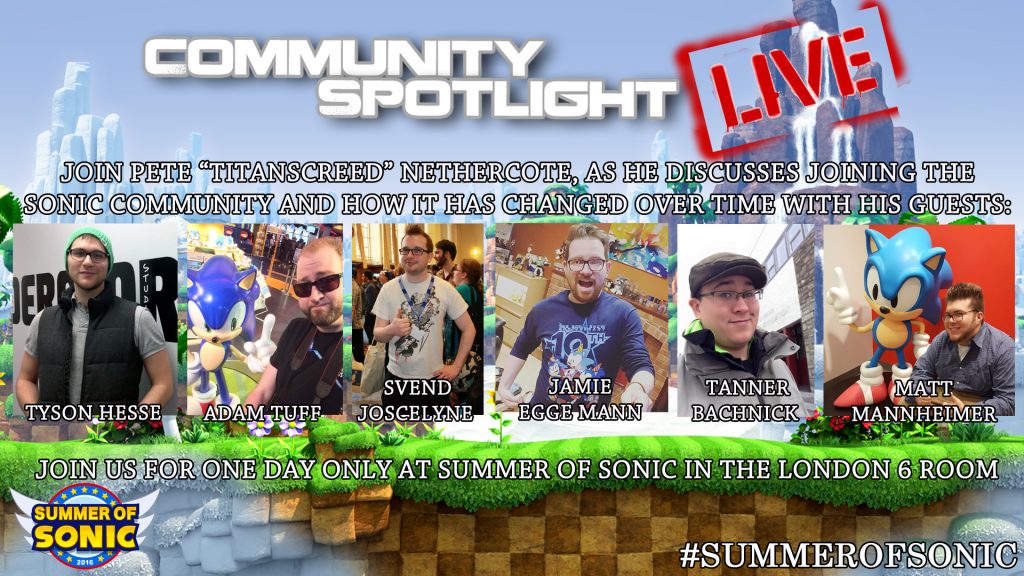 Hello ladies and gentlemen, my name is Pete "TitansCreed" Nethercote, here to talk to you once more about another panel happening at this years Summer of Sonic event!
Once upon a time, I hosted an interview segment on Sonic Wrecks (now Last Minute Continue) which then moved to YouTube called the Community Spotlight, this year, I'm proud to announce it is returning for a one off show at Summer of Sonic, now aptly dubbed, Community Spotlight LIVE.
Joining me for this one off greeting is a cavalcade of names within the Sonic community who have agreed to talk with me about the Sonic community and how they have joined and interacted with it over the span of the last several years.
Those people are: Svend "Dreadknux" Joscelyne and Adam Tuff of the Sonic Stadium, Jamie Egge Mann and Tanner Bachnick of The Sonic Show, Matt Mannheimer of Tails Channel and Tyson Hesse of Archie fame.
It is a great honour to be joined by these names, and we welcome you to join us in the London 6 room at the Summer of Sonic 2016 event. We will be taking some questions from what crowd we have, as well as some questions submitted to questions@summerofsonic.com.
I, as well as my guests look forward to seeing you at the ILEC centre on August 6th!