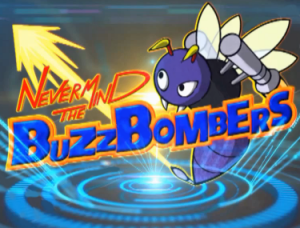 Greetings everyone! Dave here and I'm back with everybody's favourite convention game show of Sonic themed madness, mess and mayhem, Never Mind the Buzzbombers!
Two teams will do battle in a series of games and challenges designed to prove who has the greatest knowledge of Sonic the Hedgehog.
Our first team captain is none other than Svend "Dreadknux" Joscelyne! Svend is back and ready to pit his knowledge of all things Sonic against his opponent and second team captain Dr Adam Tuff (that's right, one of our team captains is now a Dr and if he thinks that's going to help him then he came to the wrong game show!). Each team will be joined by a special guest who will assist them in victory. Who are those special guests? Well that's a surprise!
Each team roster will be completed by two lucky guests from the audience! If you want a chance to help your team captain to victory and win some amazing prizes in the process.
"How do I get picked?" I hear you ask. Just make sure you're at the main stage for the start of the event, and make sure the Captains know you are the one to pick! Feel free to hold up signs, hire a sky writer, or invade the venue with a badnik army – the most stand out guests in the audience are the most likely to get picked!
Will Svend return to reclaim his crown!? Will Adam design and build us a Death Egg!? Will the air conditioning bill be paid!? Be sure not to miss this year's competition!